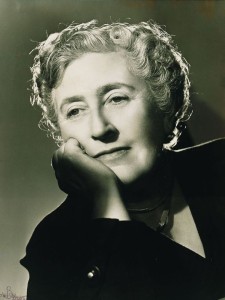 When I was in college someone passed on their used Agatha Christie collection to me. Mostly I felt a little indignant when I read the first one. Not because someone had given me used books. (You should know me better than that.) But because I hadn't been introduced sooner!
Funny story about one of her books. I was reading A Pocket Full of Rye which meant "Sing a Song of Sixpence" was stuck in my head for days. Naturally that started to come out at night when I was putting my two little boys to bed. I sang it so often that even my kids picked up on the words.
Me: There came a little blackbird and bit off her…(pausing with anticipation)
Child: Nose! (Sang proudly and with no concern at all that the maid's nose was snatched by swarming birds.)
This is still a go-to favorite at our house. And I blame/thank Agatha Christie.
(I have also since learned that I don't actually sing the right words to this song. You're welcome kids. You're welcome.)
I love Agatha Christie because of her books. But as I've learned more about her, my love for her work has turned to admiration for the woman herself.
Here are 7 reasons I want to be like Agatha Christie when I grow up:
Because mysteries.
She is the best-selling novelist of all time. Not just the mystery genre. Agatha Christie is directly behind the Bible and William Shakespeare in publication.
When Agatha Christie found out about her husband's affair she drove off in a car paid with royalties from her books and disappeared. Ten days later she was discovered in a hotel. When asked about her strange behavior she claimed amnesia. Amnesia!
Hercule Poirot and Miss Marple. Especially Miss Marple.
Miss Marple's character was created in the same year that Agatha Christie remarried. I'm taking this appearance of my favorite Christie character as a sign that she was happy in her personal life.
She was able to write successfully without using a man's name, paving the way for female writers to be taken more seriously.
Perhaps my greatest reason for wanting to be like Agatha Christie when I grow up is this statement she made near the end of her life: "I am satisfied. I have done all I want to do." -1965
I've been thinking about that last one quite a bit lately. What a wonderful thing to feel as though you've done everything you hoped to. Can you really hope for much more out of life than that?
To honor Agatha Christie on her birthday I propose doing just that. Find time today to do something you want to do. As for me, if you need me I'll be hovering over an Agatha Christie novel and a cupcake.
Happy birthday to the queen of mystery!